Forget the 100 crore club weddings, there have been such wedding in India that has cost a sum of whopping 500 crores, that these stars have spent and these billionaires have happily spent it on the necessary tantrums of life called marriage. Let's take a look at them.
Payal Bansal (daughter of real estate developer, Basant Bansal) weds Deepak Kanodia's wedding.
Held in Turkey,  real estate developer Basant Bansal's daughter had a lavish wedding. The wedding night shimmered with the awesome performances of many Bollywood stars. Around 30 cooks and 130 assistants accompanied Basany to Turkey for the preparation of this out of the box wedding. The venue was decorated with white flowers by the Indian decorators who went there all the way from India for the wedding and made it an everlasting one. The wedding crossed the budget of 100 crores.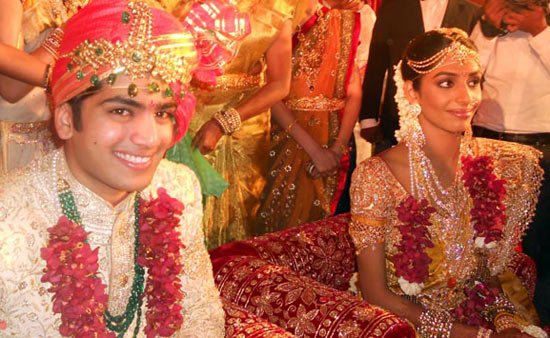 Lalit Tanwar (son of Congress minister, Kanwar Singh Tanwar) weds Yogita Jaunapuria
Congress Minister Kanwar Singh's son wedding to Yogita Jaunapuria was an unforgettable one. It took place in 2011 in Delhi, and his son got the most expensive gift ever given by an Indian in laws, which was an outrageously expensive Bell 429 helicopter.  
Shrishti Mittal (Lakshmi Mittal's niece) weds Gulraj Behl
Lakshmi Mittal's niece, Srishti Mittal's wedding was held in one of the lavish locations which was the national museum of Catalan Art atop a hill in Barcelona. Around 200 chefs, assistants,  decorated were taken away to Barcelona for this extravagant wedding preparation. The wedding was worth rs.500 crores.
Sahara Chief Subrata Roy's sons' double wedding
The wedding costs them a whopping sum of 552 crores. The wedding of Sushant and Richa and Seemanto with Chandni took place at the Sahara auditorium in Lucknow 2014. Famous designers Sabyasachi Mukherji and Rohit Bank designed their wedding outfit. The venue was stylishly decorated with royal designs. It was a star-studded wedding, where the various dignitaries and celebrities arrived including Amitabh Bachchan, Aishwarya Rai, Kapil Dev, Anil Ambani were present.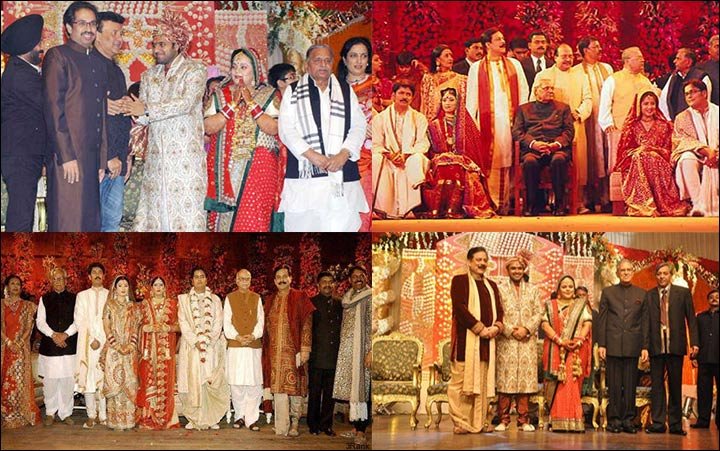 Vineeta Agarwal (daughter of UK based billionaire, Pramod Agarwal) & Muqit Teja's wedding.
UK based billionaire Praveen Agarwal preferred 17 acres of San Clemente Island for the wedding of his daughter. Shakira's dance was the major show of the wedding. The wedding knot was worth Rs. 130 crores.
8. Vikram Chatwal (hotelier & actor) weds Priya Sachdev (model & investment banker).
Held in one of the royal palaces of Udaipur, this wedding comes in the 100 crores club. The wedding of American hotelier Vikram with Priya Sachdev was a lavish affair indeed. Private jets were hired to pick up guests from all the parts of the world. The guest list is sure to surprise you. From Naomi Campbell to King Khan,  Prince Nicolas of Greece and the son of the late Shah of Iran witnessed this ceremony. Around 50,000 kilos of flowers and 3000 candles were used in the decoration of the venue.